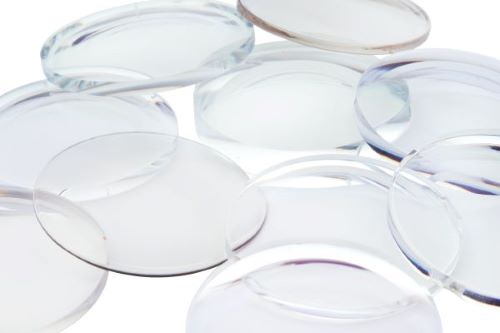 It's hard enough choosing the right frames for your glasses, and then you have to decide which lens coatings you need too!
Lens coatings are a treatment that provides additional protection for lenses. They help you to experience enhanced vision and make the most out of your new glasses. Lens coatings can improve the durability, performance and appearance of all types of lenses.
The coating you choose will depend on your individual visual needs and lifestyle. So dive into our handy guide and learn more about the advantages of each lens coating, so you can choose the right one for your requirements.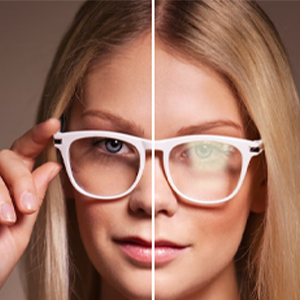 Anti-Reflective Coating
This coating eliminates reflections from the surface of a lens allowing additional light to pass through. Reducing glare on lenses can help improve vision, reduce strain on the eye and make your glasses look more attractive.
An anti-reflective coat can provide drivers with an increase in safety with faster recognition of potential road hazards. At night, the reflection of a streetlamp or headlights on your lenses is greatly reduced.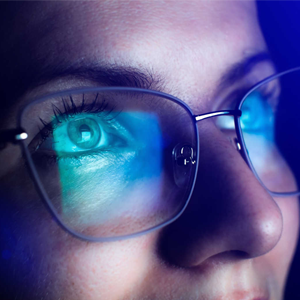 Blue-Light Control
Blue light is present in natural daylight as well as in devices such as computers, smartphones, television screens and strip lights. Blue light has a short wavelength, making it very easy to penetrate the eyes. Overexposure to this light can cause retinal damage, eye strain, and fatigue
A Blue light filter on your glasses lenses neutralises the light to help prevent it from entering your eye, making for a more relaxed vision and reducing potential damage to your eyes.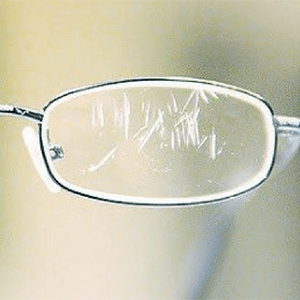 UV and Durable+ Coating
The UV and Durable+ coating, suitable for both clear glasses and sunglasses, is essential for those spending ample time outdoors, as it effectively blocks harmful UV rays even on cloudy days. This coating also includes Hard Coating technology which enhances scratch resistance, though no lenses are entirely scratch-proof, and minor abrasions may occur with regular use, mishandling, or improper care.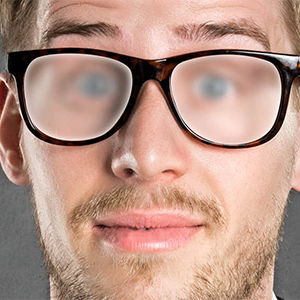 Anti-Fogging Coating
An anti-fog coating absorbs moisture from warm air on lenses, which helps prevent them from fogging up.
This lens coating is particularly useful for keeping your glasses clear and steam-free when you are wearing a mask, drinking a hot drink, cooking, or taking part in outdoor activities.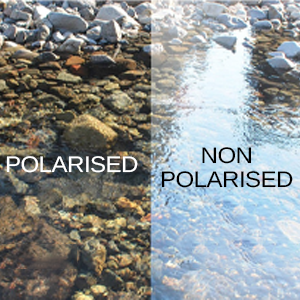 Polarised Lenses
Polarised lenses optimise visual clarity, improve colour contrast and block out 100% of UV rays. Polarised lenses are coated with tiny verticle stripes that stop horizontal light waves from entering your eyes. This means that the blinding glare from light bouncing off surfaces such as roads, windscreens, water and snow, is blocked from reaching your eyes.
Wearing glasses with polarised lenses will greatly improve your visual comfort and make driving in daylight a lot less dangerous. However, because polarised lenses reduce the amount of light entering the eye, they should not be used at night time.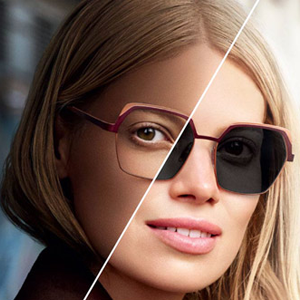 Photochromic Coating
Photochromatic lenses change colour in accordance with the brightness of the atmospheric light. They react to the amount of ultraviolet light they receive – the more UV they get, the darker they go. A photochromic coating is especially beneficial for those who regularly interchange from indoors to outdoors.
When worn inside a vehicle where less UV light is present, the ability of the lenses to darken is reduced, so they are not recommended for driving.
Honeycomb Coating
A honeycomb lens is designed to physically redirect and distribute excessive light or glare from entering your eyes, from any direction. Honeycomb technology is an advanced anti-reflective coating, particularly useful for night driving, as it improves vision accuracy and reduces eye fatigue.
Honeycomb lenses have full UVA and UVB protection and are advanced in protecting your eyes from harmful UV rays.
Reduction of glare gives you crisper, sharper vision with optimum clarity and will also prevent eye fatigue.
As the honeycomb lens is not oil-based, there is reduced smudging on the lens making them easier to keep clean.
The Honeycomb lens is super hydrophobic which aids in repelling water and any oils naturally transferred from our hands or surfaces.
Honeycomb coating is a great addition for anyone who struggles with low-light conditions. Equally, it benefits those who struggle with eye fatigue, as the advanced technology protects our eyes from excessive glare including screen glare from digital devices.
Honeycomb is helpful for anyone who is looking for extra clarity or definition whilst driving at night. Better nighttime vision makes it easier to stay alert and quickly spot any potentially dangerous hazards.