Should You Buy Glasses Online?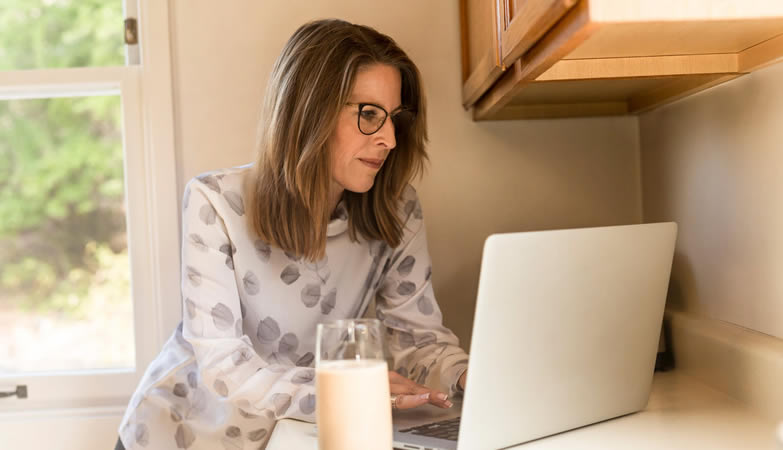 Whilst great savings can be made by purchasing glasses online from the comfort of your own home, it's not always an ideal solution for everyone. This page will walk you through the "pros and cons" of purchasing glasses online so that you can decide if it's for you -or- if you should stick to a high-street store.
Before going any further, there are a couple of instances when you will not be able to purchase prescription eyewear online due to regulation.
Firstly, if you are under the age of 16 or registered as partially sighted, and secondly if you have a particularly high prescription. Prescriptions excluded from online purchases are those that have a combined SPH & CYL power greater than ±10.00.
With that said let's take a look at some of the benefits and drawbacks of purchasing glasses online.
More Time to Decide
By purchasing online you can browse a vast array of frames at your own pace without feeling pressured into making a quick decision. For many people, this is one of the main reasons for shopping online.
Choice
Online suppliers usually have more models to choose from than the average high-street store. This enables you to look through all the wonderful designs, styles and colours on offer from a huge range of designers.
Trying Them On
Purchasing something like a pair of glasses via a website can sometimes take a leap of faith. Online suppliers generally try their best to show multiple photos of frames with specification, sizes and descriptions. However, until you receive them, you haven't actually seen them in the flesh. For this reason, make sure you choose a supplier that offers a return or exchange service.
Price
Due to lower overhead and the ability to take sales around the clock, online suppliers can afford to work on much lower margins than high-street stores. This, in turn, saves you a considerable amount of money.
Convenience
Glasses bought online can be delivered through your letterbox saving you the expense and time of another trip to the opticians to collect your glasses. Once you've ordered your new glasses simply sit back, relax and they'll soon be on your doorstep.
Home Fitting
When you purchase glasses on the high-street and you return to collect them, the optician will usually make any alterations that may be required for you. However, when purchasing glasses online, you may need to make these alterations yourself. Most reputable online suppliers will provide you with simple fitting instructions, should you need them. Our Aftercare section has some information on how to adjust your new glasses.
Satisfaction Guarantee
Many online suppliers offer free exchanges or full refunds if you decide that you do not like the style or shape that you have chosen. This means you can try your glasses for a short period of time and if you decide that you do not like them, you can return them for a refund or exchange.
Prescription Issues
Although a rare occurrence, if for some reason you have an issue with the prescription supplied, this will, unfortunately, involve returning your glasses to have them inspected. Here at Spex4Less, our guarantee covers you against prescription errors which means your lenses will be replaced free of charge, even if you made a mistake entering the details or your optician has made a mistake with the prescription supplied to you. However, for us to resolve this for you, you would need to return your glasses to us through the post.
Multiple Pairs
Due to the savings that can be made by purchasing online, you can purchase multiple pairs of glasses. You may decide to purchase a few different colours to match different outfits or even pick up a spare pair.
Speed
Most of the time glasses ordered online can be made and delivered to you within a day or two. This all depends on prescription, lens complexity and frame availability. However, many of our customer reviews state that time saving is another factor in deciding to buy glasses online.
Exchanges
Should you decide that you do not like your glasses when they arrive you will need to return them through the post in order to exchange them for an alternative pair or obtain a refund.
Unique Fitting
Humans come in various shapes and sizes and whilst frame manufactures try to provide a great fitting frame for everyone, most of the time, they do tend to cater to the masses. If you have a particular shape of face or nose, and you generally experience trouble finding a pair that fits well in a high-street store, you may be faced with difficulties by purchasing online. If this is the case and you decide to purchase your glasses online anyway, make sure you choose a reputable supplier with a strong guarantee or exchange service.
Summary
Hopefully, this information will have helped you decide whether or not to purchase your next pair of glasses online. Generally speaking, providing you choose a supplier with a strong guarantee and exchange service there really isn't much to lose by giving it a try. You can find more help in our information section and we're always reachable by telephone on 0151 632 6611 if you have any questions or need further help.